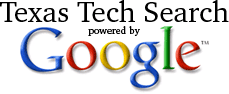 Texas Tech University Search: Sponsored Links
What are Sponsored Links?
Sponsored links are website links displayed and highlighted at the top of the TTU search results page, when you conduct a keyword search on the TTU website. This feature will let TTU emphasize specific web pages, to improve the likelihood that site visitors will quickly find the most relevant information first.
Note that Sponsored Links are selected based on ttu.edu website search history, site index (A-Z listing) term cross referencing, and content owner recommendations. However, content owners are strongly encouraged to optimize web page design for search engines, such as using meta tags. In collaboration with the TTU IT Division, Communications and Marketing will provide training to content owners on optimizing page design for search engines in the near future.
Example of Sponsored Links as appears on the Results Page
How Does it Work?
When a visitor searches for a specific word or phrase, such as Admissions, websites designated as sponsored links are displayed at the top of the search results page to help guide visitors to that site. Sponsored links are particularly useful for highlighting targeted content, highly specific content, and new content.
Each search term is limited to five (5) associated sponsored links.
Where Did the Current Sponsored Links Come From?
The TTU IT Web Team and Communications and Marketing created a baseline group of common search terms and associated TTU websites with those terms, establishing a database of sponsored links. We analyzed the most popular search terms visitors currently used on the TTU search to find the most common queries, and associated various TTU websites with these terms. We also included sponsored links from entries in the TTU A-Z Site Index, and incorporated suggestions from Texas Tech University web content owners.
How to Suggest New Sponsored Links
Submission of new sponsored link suggestions may be done by Texas Tech University website content owners. The Office of Communications and Marketing will review all sponsored link requests and will select those to be included. Each unit has designated a website content owner to serve as the point of contact for communication and discussion concerning web content publication and maintenance. The website owners will be the liaison and point of contact for communications regarding university website management policies, requirements, and recommendations. In addition, we will collaborate to:
Share best practices and tools;
Forward centrally-received feedback with the appropriate individual units; and
Solicit feedback from University community regarding website management issues, e.g. selection of tools.
Website owners will be an integral part of the overall improvements in process for TTU web communications.
Guidelines for Suggested Sponsored Links »
Suggest a New Sponsored Link »

Contact Us
For questions regarding Sponsored Links, please contact TTU IT TeamWeb.